Meet our Les Passees Kids on the Block Puppeteers
STEPHANIE MOODY (Puppeteer)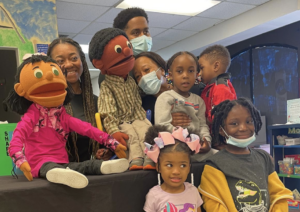 Stephanie is a native from Memphis, Tennessee. Her passion for early childhood education comes from experience working with her family in family day homes and child care centers. She is a proud graduate of Whitehaven High School. She received a BS in Communications with a concentration in Public Relations from the University of Tennessee Martin. Understanding the need for children to strive for kindergarten readiness, Stephanie also attended Lemoyne Owen College to gain professional hours for PreK-3 licensure for the state of Tennessee. Stephanie also attended Bethel University to pursue a MA in Education. Stephanie brings educational experience from teaching in private and corporate childcare, legacy Memphis City Schools, Shelby County Head Start, Shelby County Schools, KIPP Collegiate Schools, Porter Leath and Memphis Housing Authority. Currently, Stephanie is the owner and primary educator for Little Scholars Academy.
MARY MARGARET ROSE (Puppeteer)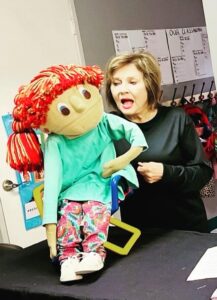 Mary Margaret graduated from Siena College with a Bachelors degree in Elementary Education and continued to pursue my Masters. During her tenure as a teacher, she achieved National Board Certification for Teacher Excellence and was also honored to receive the Rotary Award for Teacher Excellence. Mary Margaret retired after thirty two years of teaching in both public and private schools. After retiring she became a Travel Leader with the People To People Student Ambassador Program. For thirteen years, Mary Margaret traveled all over the world with students ranging in ages from nine to fourteen.
JADA L. EASLEY GALLEGOS (Puppeteer)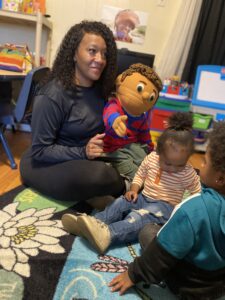 Jada is a hard working, educated teacher from Memphis TN. She developed a passion for teaching young children at a very young age. In the 12th grade she met a teacher that encouraged her to attend college and build on her passion. She went on to pursue a bachelor's degree in Early Childhood Education from Jackson State University (03). After earning her degree she was hired as a preschool assistant for a private childcare center.
There she learned that she had a strong love for the way a curriculum is designed and developed. The love for curriculum designs was so strong she earned a masters degree in Curriculum and Instruction, and was hired as the curriculum coordinator for the entire agency. During that time she was selected to present for the NAEYC (National Association for the Education for Young Children) conference in 2006. At the conference she was reunited with the director of the childcare center she attended when she was a preschooler. The director was so impressed with her presentation she offered her a position as the director of her new childcare center. Jada jumped on the opportunity, and carried out this role until 2009.In 2009 she began working as a preschool teacher for Memphis City Schools. During that time she was presented with an opportunity to work as an Education Coordinator for Shelby County Head Start. In this role she mentored new teachers, monitored classrooms, and worked with families. The birth of her third child brought on many challenges, but that never changed her desire to work with young children. She returned to the classroom and has been working with preschool children and their families for 17 years now.
JAVIER GALLEGOS (Puppeteer)

Javier is a senior at WhiteStation High School and will be graduating in May '23.
---
SUSAN ERVIN (Puppeteer & Trainer)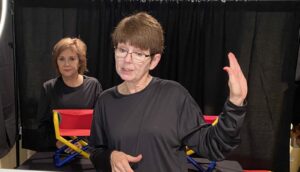 Susan has been a puppeteer and trainer with Les Passees Kids on the Block for 20 years. She has been to the national office in Maryland for advanced training in puppetry and performing. Susan studied music education at the University of Memphis and enjoys working with children of all ages. She has been a children's choir director at her church for 32 years.
---
ALIZA MORAN (Executive Director)
Aliza Moran has a BFA from the University of Memphis ('04) in Theatre Performance and a M.A in Educational Theatre in Colleges and Communities from NYU ('18). At NYU, she studied abroad in Ireland and the UK studying Theatre for Young Audiences (TYA) and devising processes within foreign communities. Aliza has been an arts educator and community collaborator for 15+ years within the Memphis community. Previously, she worked as the drama teacher and after school site coordinator for Hillcrest High School in Whitehaven, TN. Prior to that she was the Operations Manager for the Department of Outreach and Education at Theatre Memphis. Aliza's work at Theatre Memphis included administrative, curriculum development and facilitation, tour direction and designer for ShoWagon, teaching artist, and performer. Aliza has collaborated with community partners such as Thistle & Bee, The Urban Art Commission, RedZone Ministries, Shelby County Schools, The Grizzlies Foundation TeamUP Mentoring Program, and the University of Memphis. Not only an educator, Aliza is a local performer who has been invested in the arts community since the early 2000s. She continues to produce and support new theatrical experiences by collaborating with local Memphis artists, educators, community organizations, and creatives. Currently, Aliza is the Executive Director of Les Passees Kids on the Block; an educational puppet troupe.