---
Les Passees is pleased to announce the grant winners
Our new grant program launched in spring 2022 to select charities in Memphis which assist the mission of Les Passees, support for children and families in our community.
More than 36 organizations in the community have responded to our new program and submitted their innovative proposals, and our Board of Strategic Planning selected 3 organizations to receive grant funding for their projects. Grant awards range from $5,000 to $19,000, and the amount distributed totals over $37,000!
Leslie Darr made the announcement at the December General Membership Meeting that Les Passees awarded grants to the following organizations:
Madonna Learning Center
Room in the Inn Memphis
The Neighborhood Christian Centers
We look forward to serving our community in the future.
---
We continued our support to Harwood Center in 2022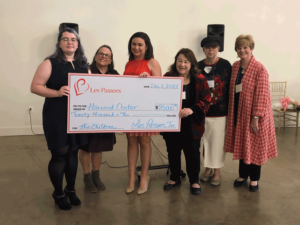 Harwood Center and Les Passees believe in hands on strategies for helping special needs children. We hope that our support will give then a jump start in their new location on the campus of the University of Memphis (U of M) that merged Specialized Education teachers and Certified Behavior Analysts. By the end of 2021, the program will have a permanent home after renovating an 8,000 sq foot building on campus in order to reach and assist more children in the Memphis area. We proudly awarded $30,000 to Harwood Center in 2022.
Delaney Peters, Harwood; Jennifer Kruchten; Rachel Lauletta, Harwood; Chris Conway; Jane Venter-Dike; Pam Guinn