For more than thirty-five years, Les Passees Stock Exchange has held a short-term consignment sale for home furnishings and decorative items.  Each year new shoppers discover Stock Exchange, while a loyal crowd of long-time shoppers and consignors return to the store.
Patrons, old and new, can find helpful information in the Stock Exchange Magazine.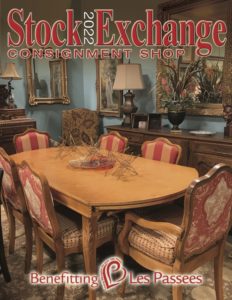 New consignors will find the list of items accepted to consign.
Buyers can reference how-to articles about decorating or renewing furniture finishes.
Les Passees members see the names of advertisers to patronize in thanks for their support of the club.
---
Thank you again to our loyal sponsors.
We appreciate your support and hope you will be back!