THE SOUL OF MEMPHIS CABARET 2023
The Soul of Memphis Cabaret 2023 will be held February 18, 2023 at Ridgeway Country Club. Our evening begins at 6pm and lasts until 11pm. This Les Passees event will be presenting Living Ads, celebrating the end of a successful year and thanking our sponsors! Join us as we dance and dine at the Ridgeway Country Club with music by the one and only Soul Shockers.
Dress code: Black Tie preferred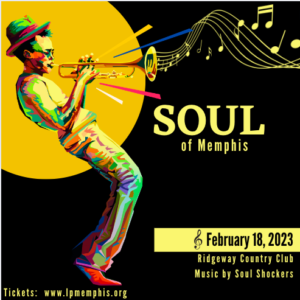 6:00pm
Check-In, Silent Auction, Cash Bar, Entertainment by Young Petty Thieves featuring Dani McCulloch.  Dani made it to Hollywood on American Idol, and was a B.B. King All-Star for several years.

6:45pm
Presentation of the Living Ads and Pages

7:00pm
Dinner served.

7:30pm
Soul Shockers Perform and Dancing begins

11:00pm
Goodbye and Drive Safely!
Purchase Tickets Below!