Les Passees KIDS ON THE BLOCK
---
Kids Teaching Kids Through the Power of  Puppetry
Step into a performance by the Les Passees Kids on the Block, and it is quickly apparent that these puppet voices resonate with their elementary student audience. The child-sized puppets talk about their hopes and dreams and let their personalities show while they air their troubles: social issues that affect today's children. Their frank dialog is part of a proven national program to teach about resolving conflict and combating peer pressure.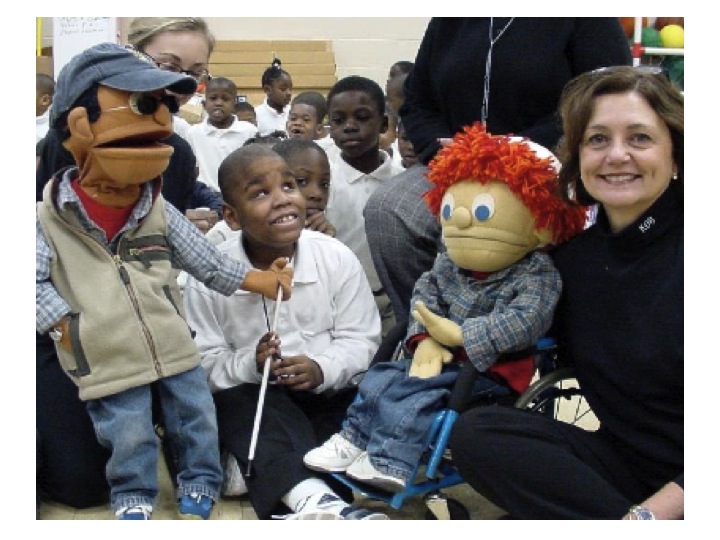 The secret to the success of the Les Passees Kids On The Block is its ability to establish kid-to-kid relationships. Kids feel comfortable sharing their feelings and fears with the puppet-peers. The program concludes with a question and answer session. Students ask questions like "What is it like to be blind? How can I say 'no' to alcohol and still be considered 'cool'?" Professionally trained puppeteers are prepared to answer the student's questions in a way that will give them the facts to make good life choices. The goal is to empower children so that they will never have to face the consequences of the issues addressed.
Skilled puppeteers dress in black and stand beside the puppets to bring them to life. Using ancient form of Japanese puppetry, Bunraku, the puppeteers seem to become shadows as the puppets tell their stories.
The Les Passees Kids on the Block visit public and private schools in the Memphis metro area during the school year, and in the summer, they continue in libraries and camps.  These child-sized puppets meet over 25,000 Memphis-area school children every year to talk about critical social issues.
Kids on the Block Educational Programs include:
Self esteem
Accepting differences
Safety
No bullying
Conflict resolution
Drug, alcohol, tobacco prevention
You can help  by sponsoring a Kid On The Block.  Find out how.
---